It's been a busy time getting into the role of councillor, and there are new things I'm learning every day. I'm very grateful for the opportunity I've been given to represent the people of Gorrell on the council and I'm working hard to make sure that my voice is heard on issues that matter to local people.
The main piece of work for local Greens over the past few months has been the water testing we carried out with the help of members of SOS Whitstable and the Bluetits swimming group. We tested the sea water at Tankerton and West Beach every day for a month, then plotted the results against sewage outages. Our results showed that E.coli was at unsafe levels on at least two of these days. There were at least 10 other days where tests suggested that bacterial pollution may have been at unsafe levels. This resulted in publicity on South East Today and in the Whitstable Gazette, which has helped to keep the pressure on Southern Water to make sure they carry out their own testing. This is needed urgently to inform local residents and business about the safety of our seas. Pressure is also needed to ensure that Southern Water carry out the programme of work they have set out. We are in correspondence with them, and are demanding a meeting as soon as possible to discuss our findings and a timeline for their own testing locally.
On other issues, my letter to the Gazette was published in support of the news that Passivhaus standard designs are being considered for new social housing locally, and I will continue to push for this standard to be expected for all developments in the district. Another letter discussed the short-term thinking and poor strategic planning which has resulted in plans to mothball the Sturry Road Park and Ride for 18 months while still having to pay Stagecoach under the terms of an on-going contract. To do it now, when lifting of Covid measures will inevitably result in an increase of visitors, is difficult to comprehend. Park and Rides offer a real opportunity to manage traffic levels in our city and towns and we need measures to encourage their usage, not a passive assumption that they are not sufficiently attractive to visitors.
I attended the recent Community Committee meeting where I joined Labour and the Lib Dems in speaking out against the proposed Public Spaces Protection Order (PSPO). This order potentially gives excessive powers to contracted 'enforcement officers'. It is so broad and open to interpretation that it could easily be used to issue £100 fines to ordinary beach goers who miss the signs and are unaware that they shouldn't be drinking from a glass on the beach, for instance. I cannot see that non-police 'enforcement officers' will be equipped to tackle the more serious anti-social behaviours which the order is supposed to address. Have your say in the current consultation: https://news.canterbury.gov.uk/latest-consultations
I am very keen to support and improve green spaces in Whitstable, and have visited West Cliff Bank, who are awaiting confirmation of their village green status. It is exciting times there as they establish their Friends' group and plan a programme of activities to ensure they take a careful approach to improving the site.
Thanks also to all those who responded to the call out in our newsletter for new tree wardens. A very successful tree walk took place recently, attended by the budding tree wardens as well as other local residents who already work hard to keep Whitstable green and biodiverse. On just a short walk, we identified several spots with potential for tree planting and neglected beds which could be better planted and properly nurtured to add beauty and diversity to our town. I am following up on this with the Council.
I have been pleased to be able to use my Councillor's Opportunities Fund for last year to donate some funds to Stream Walk Community Garden. This will be used to support children's gardening activities.
Local people have been offering to open their homes to Ukrainian people fleeing conflict in their country. I am a member of the district wide Ukranian Refugee Scheme Network, which will help channel the offers of help and support to the right places and keep everyone in the loop on information from the government and county arrangements as the phases of the scheme are rolled out.
I have been attending meetings of the CT5 forum. If you are not aware of it, this is an independent online forum, led by local people who want to take an active role in addressing local issues. It is open to all residents of CT5 and I encourage anyone in the Whitstable area who is interested in local democracy area to attend (email ctfivepeoples@gmail.com to be added to the contact list).
There is such a lot going on locally; if you want to tell me more, or get involved in anything I have mentioned, please do contact me: clare.turnbull@councillor.canterbury.kent.gov. And look out for dates of my surgeries where you can make appointments to meet me to discuss local issues.
Best wishes
Clare
How to describe the experience of the by-election count on 18th November? Candidates, agents and supporters gathered in the United Reform Church on Middle Wall, Whitstable, uncertain as to the outcome after a frenetic 6 weeks of campaigning. Diligent count assistants opening and smoothing paper after paper to verify the votes – and, look! Cross after cross next to my name for the Green party! Thrilling, humbling and validating. The work we had done had paid off. We had spoken to over a thousand voters, leafletted thousands more. Gorrell residents wanted a change, they wanted a new fresh voice, and, what's more, they cared very much about the issues we care about. We had heard it on the doorstep, now we were seeing it on the ballot papers. 
It was an incredible and emotional night for all of us. Green party members told me they had been campaigning locally for over 30 years to get representation on Canterbury Council. We were, and are, thrilled and thankful to Gorrell residents for giving us this first seat. And we had to celebrate!
Now, of course, the hard work begins. First impressions from being elected to the council are that there is so much to learn! How do you go about influencing and achieving any change? Especially as a sole party representative. How do things work around here?
The answers are in talking, listening, acting and persisting. Using the platform I've been given by the voters to promote the ideas that are important to them. Working collaboratively with other Councillors on the issues we agree on. Being dogged in promoting the issues that are important to us as Greens.
So far, I am incensed that Canterbury Council is not insisting that developers build houses fit for the future that we know is just around the corner, maximised for insulation, ready for renewable energy heating and car charging. Schemes which incorporate innovative approaches to sewage treatment, properly landscaped to provide green spaces and promote cycling and fully integrated with public transport and services. Local housing development schemes are gobbling up our green spaces. They need to be well planned, low impact and fit for the future. There are templates for low-energy homes in other councils – for example, Norwich, Exeter, York.
There are many more issues to work on. Getting answers and action on the issue of sewage in our sea, managing the traffic in town, securing affordable housing for local people, planting trees and encouraging biodiversity are just a few of them. 
I always want to hear from Gorrell residents – about the day-to-day issues as well as the bigger picture ones.
I am focusing on building up connections with local people, and with the various groups and organisations in Whitstable. There are so many fantastic things going on and energetic people working for change for the better and supporting each other in the community. Please contact me to tell me about what you are doing, what you want to do, what you think I can help with.
I look forward to hearing from you and working with you.
Clare Turnbull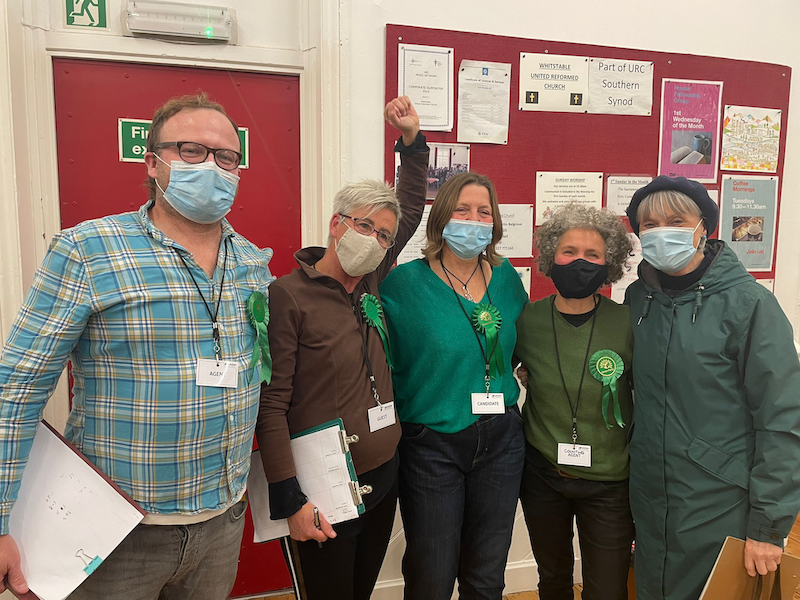 Canterbury District Green Party are thrilled to have our first elected councillor on Canterbury City Council: Clare Turnbull representing Gorrell Ward.
To celebrate, and to keep our members and local constituents up to date with everything we are doing, Clare will be updating this blog page with details about her work on the council.
If you are a Gorrell resident and would like to reach out to Clare about a local concern, or have thoughts about how she can best represent you, her official contact details can be found on the right sidebar.
Clare Turnbull
Gorrell Ward, Whitstable