How to describe the experience of the by-election count on 18th November? Candidates, agents and supporters gathered in the United Reform Church on Middle Wall, Whitstable, uncertain as to the outcome after a frenetic 6 weeks of campaigning. Diligent count assistants opening and smoothing paper after paper to verify the votes – and, look! Cross after cross next to my name for the Green party! Thrilling, humbling and validating. The work we had done had paid off. We had spoken to over a thousand voters, leafletted thousands more. Gorrell residents wanted a change, they wanted a new fresh voice, and, what's more, they cared very much about the issues we care about. We had heard it on the doorstep, now we were seeing it on the ballot papers. 
It was an incredible and emotional night for all of us. Green party members told me they had been campaigning locally for over 30 years to get representation on Canterbury Council. We were, and are, thrilled and thankful to Gorrell residents for giving us this first seat. And we had to celebrate!
Now, of course, the hard work begins. First impressions from being elected to the council are that there is so much to learn! How do you go about influencing and achieving any change? Especially as a sole party representative. How do things work around here?
The answers are in talking, listening, acting and persisting. Using the platform I've been given by the voters to promote the ideas that are important to them. Working collaboratively with other Councillors on the issues we agree on. Being dogged in promoting the issues that are important to us as Greens.
So far, I am incensed that Canterbury Council is not insisting that developers build houses fit for the future that we know is just around the corner, maximised for insulation, ready for renewable energy heating and car charging. Schemes which incorporate innovative approaches to sewage treatment, properly landscaped to provide green spaces and promote cycling and fully integrated with public transport and services. Local housing development schemes are gobbling up our green spaces. They need to be well planned, low impact and fit for the future. There are templates for low-energy homes in other councils – for example, Norwich, Exeter, York.
There are many more issues to work on. Getting answers and action on the issue of sewage in our sea, managing the traffic in town, securing affordable housing for local people, planting trees and encouraging biodiversity are just a few of them. 
I always want to hear from Gorrell residents – about the day-to-day issues as well as the bigger picture ones.
I am focusing on building up connections with local people, and with the various groups and organisations in Whitstable. There are so many fantastic things going on and energetic people working for change for the better and supporting each other in the community. Please contact me to tell me about what you are doing, what you want to do, what you think I can help with.
I look forward to hearing from you and working with you.
Clare Turnbull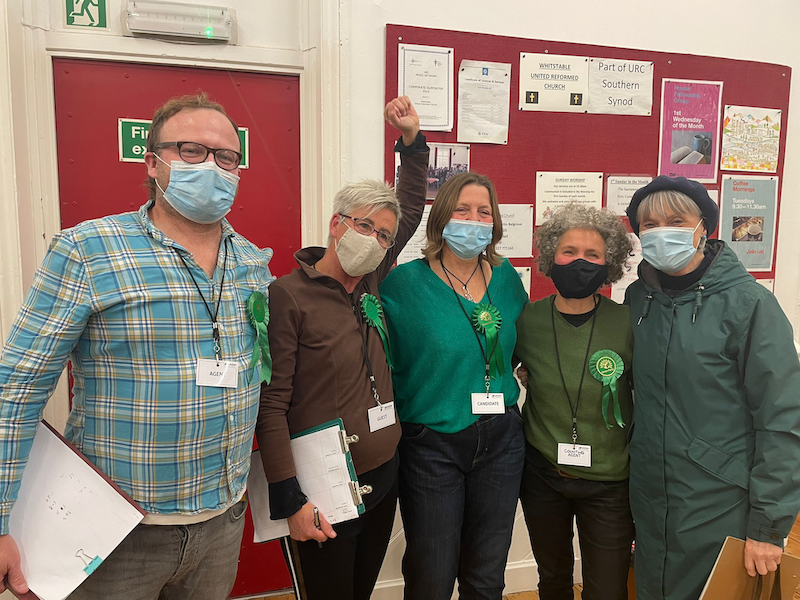 Canterbury District Green Party are thrilled to have our first elected councillor on Canterbury City Council: Clare Turnbull representing Gorrell Ward.
To celebrate, and to keep our members and local constituents up to date with everything we are doing, Clare will be updating this blog page with details about her work on the council.
If you are a Gorrell resident and would like to reach out to Clare about a local concern, or have thoughts about how she can best represent you, her official contact details can be found on the right sidebar.
Clare Turnbull
Gorrell Ward, Whitstable