Clare Turnbull - Gorrell Ward (Whitstable) By-Election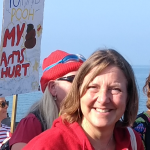 Clare has been a Whitstable resident for the past 10 years and has played an active role in the local community, particularly as a school governor at The Whitstable School, during that time. She currently works part-time in educational research and has a Master's degree in Psychology from Canterbury Christ Church University. 
Clare is passionate about environmental issues in Whitstable and the surrounding area, and has been involved with local campaigns such as the Whitstable SOS march which took place on Saturday 9th October to protest ongoing water pollution along the Kent coast. She aims to prioritise protecting the open environmental spaces of Whitstable through sustainable development in the local area. Furthermore, Clare will work to preserve the life and spirit of Whitstable by supporting a local, environmentally sustainable economy. 
Clare says that she would like to be "the kind of councillor who reaches out to people, a councillor who listens to people's worries and tackles the issues that affect us day to day, a councillor who, unlike the other party candidates, does not have to toe a party line."
Local Elections - 6th May 2021
We are pleased to announce our candidate list for the upcoming Kent County Council Elections. To find out which ward you are in, please use the following link: Find Your Ward
Canterbury City Council By-Elections
We are pleased to announce that we will be standing candidates for the by-elections in both Swalecliffe (Keith Bothwell) and Westgate (Terry Thompson).
Kent County Council Elections
Keith Bothwell - Whitstable East & Herne Bay West
Keith is a retired architect and senior lecturer, mostly working as deputy head at Kent School of Architecture, University of Kent. He specialised in teaching low-energy sustainable architectural design.
He has taken a keen interest in environmental issues since he was a student in the early 1970s, when he worked as a volunteer at the Centre for Alternative Technology in Wales.
Keith has lived in the area for over 30 years, and has been a member of the Green Party for most of that time. He often contributes to local organisations improving the quality of our surroundings, raising design quality in towns, and protecting the natural environment.
He continues working with local groups, including the Canterbury Society and the Canterbury Climate Action Partnership (CCAP), to improve the quality of the environment in and around our towns. Most recently he started the Canterbury Repair Cafe project which helps people to repair their broken household items and clothes, rather than throwing them away. This not only saves money but also reduces the huge environmental damage caused by waste and by making unnecessary new things.
Terry Thompson - Westgate By-Election
Terry's background is in agricultural engineering and he has a keen interest (and skill) in green engineering and building, including renewable systems and transport. He has a passion for non-centralised renewable energy generation and off-grid living, and became vegan in 2003.
In 2000, Terry and his wife Jo co-founded Skillnet Group CIC (now Bemix CIC), a social enterprise which supports those with and without learning disabilities to work together and challenge inequality. Following this, they bought and converted an old yard in St Dunstans which they converted into a low impact working hub for small businesses. In 2010, Terry and his wife founded the Abbot's Mill Project CIC in Canterbury, creating an urban hub which will be an example of earth-friendly living. In 2016, Terry partnered with Longleys Taxis to get the first all-electric cab in Canterbury. Over the past few years, Terry has been managing various areas of ancient woodland alongside involvement with various vegan groups in Canterbury, including Kent Vegan Events and Vegan Organics Kent.
Andy Harvey - Herne Village & Sturry
Andy Harvey has lived in Broomfield for nearly 20 years, raising numerous chickens, several pigs and three children. He has sat as an independent Councillor on Herne & Broomfield Parish Council for around ten years and, as a Green Party member and keen environmentalist, he feels the tme is right for change and to push forward the aims of the Green Party.
He has a keen interest in community led housing and his local dream is to see Herne Mill turning and producing energy for the village.
Brian Shelley - Herne Bay East
Brian spent his early years in Kent, returning to live in Herne Bay 10 years ago. His family were involved in green issues and he has written a play on green politics. His focus now is on the party's push to create, especially post-COVID, new jobs in the green economy,
Nicole David - Whitstable West
Nicole was born in Kent, moved away and has been in Whitstable for 7 years. An active member of the local community, she is a member of the Plastic Free Whitstable working group, has volunteered at Age UK Whitstable, Stream Walk community garden, and regularly joins the beach cleans as well as being a keen supporter of local shops and businesses.
Her work experience is in the voluntary sector, currently working on food and sustainability, and having previously worked at the Citizens' Advice Bureau.
She joined the Green Party as she believes no other party is taking the climate emergency seriously enough, in a way which also tackles social injustice.
If elected she would work for a Green Recovery here in Kent, where we put people and planet before profit.
Anna Peckham - Canterbury North
Anna has lived in Canterbury for a number of years and has been active in campaigns to improve the local environment. She joined the Green Party because it has led the way on climate change, air quality, environmental and social issues. Anna is an advocate for libraries, trees, hedges, and the protection of green spaces. Other areas of particular interest include electoral reform and more sustainable building developments.
Henry Stanton - Canterbury City North
Henry has lived in the district since he was 6, and has previously worked as a teacher in Faversham for 14 years. He joined the party to campaign for climate change action, electoral reform and a closer relationship for all of us with nature. He has been a strong voice for clean air across the district.
Pat Marsh - Canterbury City South
Pat Marsh is Coordinator of Canterbury District Green Party and Secretary of Kent Greens. It was the Green Party's slogan, 'fair is worth fighting for', which drew her in over a decade ago, and it is the current one, 'for the common good', which inspires her. Now, more than ever, it is vital to have more than one Green voice in the room at the County Council to work with you to get things done.